September 9, 2023 at Blue River Covenant Brethren Church near Columbia City, Indiana.
The theme is "Brethren Values," and will be addressed by CBC minister Nathan West and New Hope Church (WV) minister Nathan Rittenhouse, and a panel discussion of ministers and laypersons from a variety of Brethren backgrounds.
Lunch and childcare will be provided. Some overnight lodging is available in the congregation. Contact [email protected] for more information, or call the church 260-691-2605.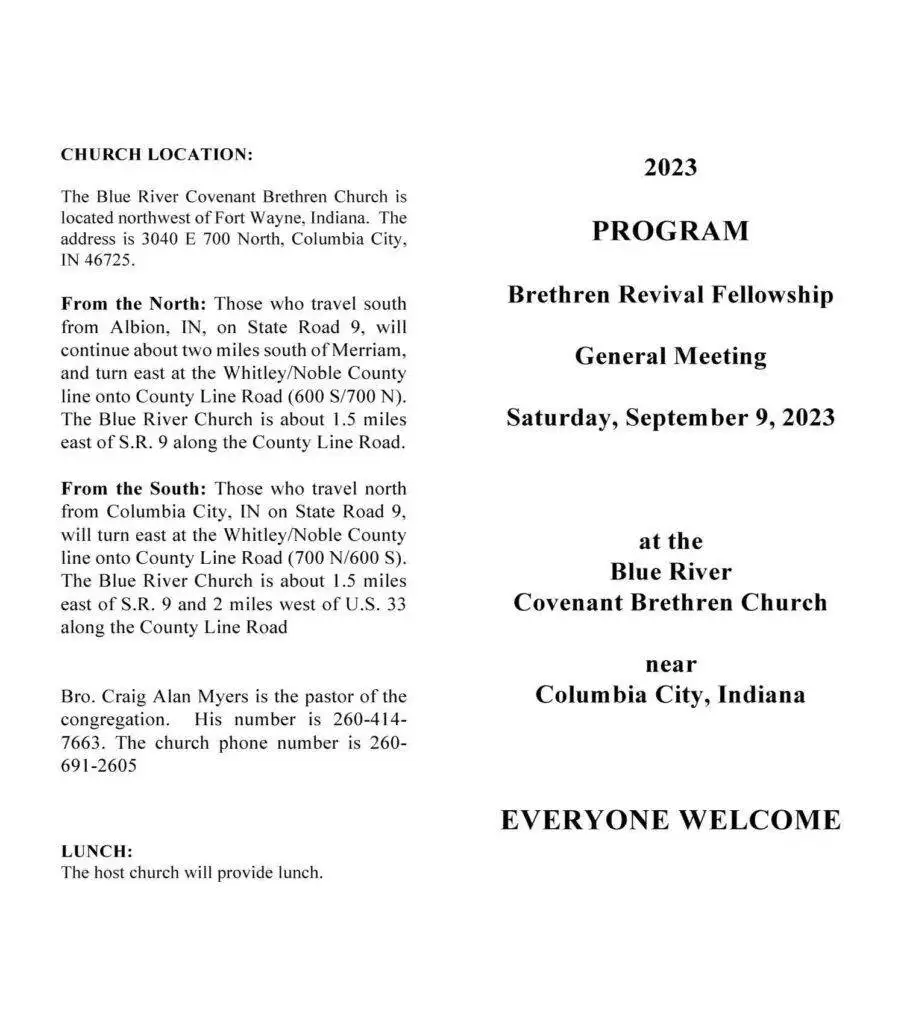 The Brethren Bible Institute believes in the discipline of the whole person (spirit, soul, and body). We will aim to train students not only about how to study the Bible in a systematic way (2 Timothy 2:15), but also how to live soberly and righteously and godly in this present world (Titus 2:12). God calls Christians to the highest of character when He commands us to be holy (1 Peter 1:15), and holiness requires discipline.
Brethren Bible Institute Information​
Duration and Cost
Brethren Revival Fellowship offers the annual Brethren Bible Institute, a one-week school intended to provide systematic instruction in the Bible for any person 16 years of age or older. Students may take one, two, or three courses. The cost is the same regardless of how many courses are taken. It is expected that dormitory students take three classes, unless special arrangements have been made with the principal prior to the opening of the Institute.
Students will meet for chapel each morning at 8:10 a.m. with classes to follow. Classes meet every day, Monday through Friday. Each class is 1 1/2 hours in length.
Total cost for dormitory students (including room/board/tuition) is $ 300.00 for the entire week. The cost for commuting students is $ 125.00 for the week. BRF significantly subsidizes the overall costs of the school. Applications must be received at the Denver, PA address by: TBD